Century of Lies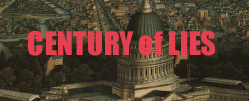 Sundays, 7:30 PM ET, 6:30 PM CT, 5:30 MT & 4:30 AM PT
at www.KPFT.org
An effort in the state of Colorado to prevent overdose deaths suffered a setback in the Colorado Legislature on February 14. The Co Senate's State, Veterans, and Military Affairs Committee held a hearing on Senate Bill 40, Substance Use Disorder Harm Reduction. The measure was not approved and has been postponed indefinitely. Experts in public health and public safety along with people who have lost family members to overdose and others who are concerned about the community testified overwhelmingly in support of Senate Bill 40. On this edition of Century of Lies, we hear from some of them.
29:00 minutes (13.28 MB)
The White House has chosen a new drug czar; Oregon legislators are working to set up mental health checkups for all law enforcement officers in that state; and we hear more about the state of civil rights in the United States.
29:00 minutes (13.28 MB)
This week on Century of Lies we continue our look at the state of marijuana legalization in the US; we hear from Vanita Gupta with the Leadership Council on Civil and Human Rights on the state of civil rights in America; and we pay tribute to the legendary activist Dennis Peron, who died in late January.
29:00 minutes (13.28 MB)