Century of Lies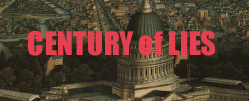 Sundays, 7:30 PM ET, 6:30 PM CT, 5:30 MT & 4:30 AM PT
at www.KPFT.org
This week: at the Cannabis Collaborative Conference in Portland, Oregon, we interview former NBA star Clifford "Uncle Spliffy" Robinson, Aaron Smith and Bethany Moore from National Cannabis Industry Association, David Rheins and Morgan from the Marijuana Business Association, Sam Chapman from New Economy Consulting.
29:00 minutes (13.28 MB)
This week we look at human rights and the drug war with audio from Damon Barrett, Director and co-founder of the International Centre on Human Rights and Drug Policy, and The Honorable Mark Golding, Minister of Justice for Jamaica.
29:00 minutes (13.28 MB)
This week we speak with Mary Lou Burton about the Cannabis Creative Conference.
29:00 minutes (13.28 MB)