Century of Lies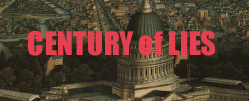 Sundays, 7:30 PM ET, 6:30 PM CT, 5:30 MT & 4:30 AM PT
at www.KPFT.org
This week: Professor David Bradford on his research that show billions of dollars and countless lives are saved in the US because of medical marijuana, and we look at the Secretary of Homeland Security, Marine General (Ret.) John Kelly.
29:00 minutes (13.28 MB)
This week: we take a look at the likely next Drug Czar, US Rep. Tom Marino (R-PA).
29:00 minutes (13.28 MB)
This week on Century Of Lies, our interview with SSDP Executive Director Betty Aldworth; Krys Nyrop from Seattle-King County, Washington, talks about the Law Enforcement Assisted Diversion (LEAD) Program; and we talk about marijuana and athletics with Deuvall Dorsey, the Vegas 420 Runner.
29:00 minutes (13.28 MB)