Century of Lies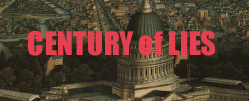 Sundays, 7:30 PM ET, 6:30 PM CT, 5:30 MT & 4:30 AM PT
at www.KPFT.org
Doug McVay reports: A new drug czar is nominated, research about medical cannabis and opioid overdose, and a discussion with NORML's Paul Armentano.
29:00 minutes (13.28 MB)
Doug McVay reports: This week show is part two of our coverage of Hempfest 2014. The event was held August 15th, 16th, and 17th in Seattle, Washington. I walked miles from one end of the fest to the other to get audio and photographs of the activists and organizers from around the country working to legalize marijuana and end the war on drugs.
29:00 minutes (13.28 MB)
Doug McVay report: This week is part one of our coverage of Seattle Hempfest 2014. It's billed as the world's largest protestival, and it lives up to its reputation. The event is massive – three city parks, four music stages, and one smaller stage with panel discussions and in-depth presentations by leaders in the industry and the movement.
29:00 minutes (13.28 MB)