Century of Lies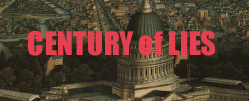 Sundays, 7:30 PM ET, 6:30 PM CT, 5:30 MT & 4:30 AM PT
at www.KPFT.org
This week: a conversation with the author, activist, radio host, and distinguished long-time drug policy reformer Kevin Zeese; plus, White House Communications Director Sean Spicer on likely new directions for this administration's marijuana policies.
29:00 minutes (13.28 MB)
This week we speak with Kymone Freeman, who's an activist, playwright, and founder of We Act Radio, about marijuana legalization and political protest, plus we hear from Congressman Earl Blumenauer (D-OR) about the formation of the Congressional Cannabis Caucus.
29:00 minutes (13.28 MB)
This week, we talk with Jodi James, Executive Director of the Florida Cannabis Action Network, about implementation of medical marijuana in Florida and the legislature's attempts to hobble that program before it gets off the ground, and we hear from Representative Dana Rohrbacher (R-CA) about his new bill, the Respect State Marijuana Laws Act.
29:00 minutes (13.28 MB)