Century of Lies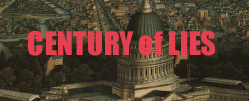 Sundays, 7:30 PM ET, 6:30 PM CT, 5:30 MT & 4:30 AM PT
at www.KPFT.org
This week we talk with Dale Sky Jones of Oaksterdam University, and former NORML national director Professor Jon Gettman of Shenandoah University.
29:00 minutes (13.28 MB)
This week we talk with Dr. Denis Petro about medical cannabis, and with Professor Alfred McCoy about the CIA's history of involvement in drug trafficking.
29:00 minutes (13.28 MB)
This week we're at the Patients Out of Time clinical cannabis conference in West Palm Beach, FL. We talk with California criminal defense attorneys Heather Burke and Zenia Gilg about a landmark case they've been arguing in federal court, and with longtime NORML activist, national legal committee member, and criminal defense attorney Alan Silber.
29:00 minutes (13.28 MB)